7 best iPhone Filmmaking Apps for 2017
How many apps are there for iPhone now? We've lost count. But there are some absolutely great iPhone Filmmaking apps and we wanted to round up the best of them! These are all must have apps for different reasons, spanning a spectrum of high quality video recorder to scouting to preproduction. Check out the list below and let us know if there are apps you can't go without in the comments!
Filmic Pro
This excellent tool allows you to increase the bit rate, change the resolution, have a realtime histogram, easily lock exposure and focus, shoot time-lapse, slowmo, and much more. It is a true swiss army knife of video features and we dig this app. As a back pocket option (or maybe soon as a primary option?) this is the app to have to record high quality video on your iPhone! Richard Lackey (@RichLackey) has a great post about how to use this app to its fullest extent!
Price $9.99, See more about Filmic Pro on iTunes
Artemis
It's been out for quite some time, but Artemis is our go to director's viewfinder app. We love the fact that you can choose your camera, which adjusts your cameras crop factor, and choose your kit of lenses, providing a digital preview of your camera and lens. Perfect. On site we've compared the actual shot to the Artemis preview and it is darn close.
Price $29.99, see it on iTunes 
CineMeter II
In a jam, having a light meter on your iPhone is a great option. CineMeter II is the best we've found, providing a real time histogram with YRGB and also a neat false color option and it can be calibrated specifically to your phone. They also offer CineMeter I, which offers a few less features but costs less at $4.99. The author of the app recommends using the Luxi light meter attachment for iPhone if you really want to get great light readings.
Price $24.99 for Cinemeter II, $4.99 for Cinemeter I. Read more about Cinemeter I and II
Sun Scout
Anytime you're outside, you have to consider your primary light source, the sun. Sun scout is a simple but highly accurate tool to measure the trail of the sun and provides a lot of needed information so you can scout locations with confidence!
Price $9.99 view it on iTunes
DigiSlate
A free, excellent digital slate. It offers the ability to show TOD timecode as well as title slots for everything you could want. Additionally we love that you can use the volume button to "clap" the slate. We've used it a few times when the real clapper was MIA.
Price, Free. View it on iTunes
Shot Lister
Always on our list, Shot Lister is an incredible tool that continues to grow in abilities and functionality. If you need to organize your shots and schedule your day, this is our go to app. You can break down scenes by shot and then schedule each shot. You can sync that project with multiple crew (using their paid crew sync functionality) and they now even offer an Apple watch app! It keeps you on time and on point.
Price: $13.99, with a pro option at $13.99 Check it out at Shotlister.com
Shot Designer
Shot designer has a lot of depth for creating overheads quickly and helping plan your scenes. We use it all the time to communicate light and set placement. It has functionality for layers and various scenes, and even an animation tool to demonstrate movement in the scene!
That's our list! While not conclusive (there are many excellent specialty apps like GoPro Capture or FoolColor for Red, or DJI Go for their drones) we do feel like with these you can cover some tremendous ground as a filmmaker. If you have other apps you love to use on your iPhone, please detail them below in the comments! We always appreciate your feedback!
Price: Pro Version $19.99 Check it out at Hollywood Camerawork
BONUS
My Radar. Weather is so key for any outdoor shoot, we love MyRadar because of the quick reliable map overlay that shows weather movement. The view of wind movement is a huge benefit. We've used it many times it to see where weather is heading to help plan our day!
Price Free, with in-app purchases.
Summary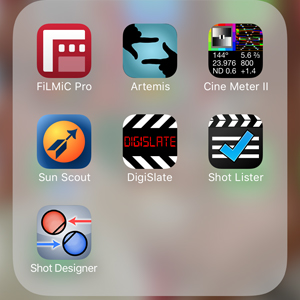 Article Name
7 best iPhone Filmmaking Apps for 2017
Description
7 of the best filmmaking apps out there to make your iPhone indespensible on film sets everywhere!
Author
Publisher Name
Publisher Logo