The Perfect Grip Kit: What to include?
As I prep for a hefty shoot starting next weekend, I thought I would share some of the little things that I've found help a production run flawlessly a little more smoothly. Obviously every set needs a camera. But there are many little bits and parts that aide the filmmaker with the minor details. I've compiled a list below of what I think are useful pieces to have in your grip kit. Best of all, most of the items are relatively inexpensive, so it's one of several cheap ways to improve your efficiency as a filmmaker.
Clamps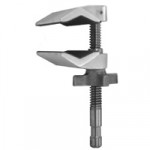 –Mafer Clamps ~$30 Perfect for clamping to pipes and tubular objects
–Cardellini Clamps (pictured, left) ~$50 for clamping onto objects like a 2×4
–C47s, (wood closepin) Infinite uses, used a lot to keep gels on lights
–Pipe Clamps ~$20 As the name implies, good for clamping to pipes. Not quite as versatile as mafer clamp, but less expensive.
–Grip Clips ~$1 Used for everything from holding sound blankets together to cable management… best value for the money
You can't show up to a shoot without these essential clamps. On big productions, there will undoubtedly be a grip truck with a long list of equipment. For all other occasions, (and there are many of them), bring your own clamps to set. You never know when the gaffer might come up with a crazy plan to put a light in a corner where nobody thinks it's possible. It's your job to prove them wrong!
Thin, string-like objects…
–Motorcylce Straps ~$15 Used to tighten things down. Especially useful in windy locations to keep tarps down, keep the tripod tightly to the dolly, etc
–Bungee Cords ~$5 Like a motorcylce strap, but quicker to setup, relies on flexibility of cord instead of a ratchet.
–Rope ~$10 If you use 12×12 frames for silks, bounce, rope is a necessity to maintain safety on set. Alternatively, you can always use it to hogtie the PA's.
–Stingers (extension cords) ~$5-$200 This starts to get into the domain of the Gaffers/Electricians, so treat this one carefully. On the small sets, having 200 feet of cord with you will make you everyone's best friend. Seems like every set always has at least one "I can almost reach that light with this cord" moment. Better to be over-prepared. I try and buy the highest gauge cord I can afford. I don't carry anything under a 14 gauge in my back and always have a few 12 gauges at the ready. Another note, label all of your stuff! I've lost soooo much inexpensive grip equipment on sets that it's starting to get expensive! Nobody wants to buy a 50 ft stinger over and over again. Label it!
Protection
–Sunglasses/eye protection ~$1-$150 Whether you pickup a pair of sunglasses at the dollar store or Oakley, you've gotta have eye protection during bright days. Add bright lights, bounce boards, a headache is bound to result if you aren't careful.
–Lighting Gloves ~$15-$40 I'm rather fond of my Setwear lighting gloves. Not only do they protect my hands from hot lights and pinches, but they give me a pretty fantastic amount of dexterity. Some of their nicer pairs are a bit pricey, but well worth it.
–Blankets ~$5-$50 Useful to keep the camera warm, and if they're thick enough, can be used as a make-shift sound barrier (sound blanket)
–Tarps ~$10-$100 A must have. You can put your gear on them, they can cover your gear from weather, so many uses, a must have.
Tape
–Gaffers Tape~$15 Remember that thing about labeling? I've lost more rolls of Gaff tape than I can count on two hands. At $14 a pop, it's not the type of thing I like to loose. Used for everything requiring adhesive, doesn't leave residue. Awesome.
–Spike Tape– $5-$10 Thin tape in bright colors usually used for actors marks or on the lens to mark focus points.
–Masking Tape– $3 When you just need to label something quickly
–Duct Tape (in many colors) $2 There are a number of circumstances on set when using gaff tape isn't worth the cost. When something just needs to stick, duct tape.
Tools
Perhaps the most obvious on the list. In my tool chest, I carry:
–Wrenches ~$10 The adjustable kind are great.
–Screw drivers/Flatheads~$5 Need 'em.
–Leatherman (multitool) $20-$80 These tools are so useful. Have one on your belt always. The knife is key. The pliers are key. The scissors, the little screw driver, everything about this tool was made for film sets. Get one!
–Measure Tape ~$5 Measuring rooms for overheads, focus distances, etc.
–Level ~$8 Leveling track!
–Headlamp ~$30 How many sets go late into the night? Having your hands free is a must.
–Flashlight ~$20 The 4D maglite is fantastic. Versatile and bright.
–Markers/Pens ~$2 I always seem to forget pens on set. I keep a box in my car, notes need to be made!
–Energy Bars ~$1 not exactly a "tool", but an important thing to keep you going on those long stretches between food breaks.
What things would you add to this kit? Take away?
Update: Here are some awesome user additions, thanks for the comments!
–Advil/IBprofen ~A must. Thanks Bill
–Knife, Notepad, Pens, Phone, Radio ~All key. Thanks Brian
–Black Wrap Aluminum foil-like material, but coated in black to quickly shape and block light. Thanks Jamie
–Sunscreen, Allen wrench Good for not getting toasted. Thanks Jim
–Foam ear plugs "Sharpie" assorted color, Grease pencil (China market), Cube tapes (if you are pulling double duty), Binder clamps Thanks JD
–3/16 allen wrench for speed rail. Good call thanks Ben!
James Drake Films, Denver Video Production