Shooting for NBC Sports Network
One of my latest jobs was camera operator for Fish the Baja, premiering on Versus HD on December 28th. I didn't have much of a chance to take many still pictures, but the few I got tell a little bit about the trip. (click on pictures for larger versions)
A few of my friends were quite jealous as I left 20 degree weather in Colorado for 80 degree weather in Mexico. I have my jacket on in the picture above because despite the temperature, the breeze (or sometimes heavy wind) on the Pacific side can make 80 feel like 50.
5 days we stayed on the "Success", a boat built from the ground up by its captain to be the perfect sport fishing boat. I'd never stayed on a boat for that duration. I have to admit, I was a bit nervous of being incapable to shoot because of seasickness. There were some fairly rough swells in the ocean, rocking the boat quite a lot. Staring through the lens of a camera is probably one of the worst ways to prevent seasickness. In any case, I was fortunate to quickly get over the very minor symptoms I had and wasn't inhibited from shooting at all.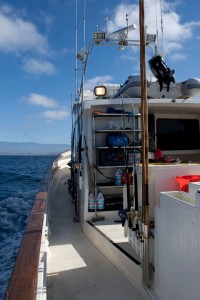 The picture above shows the walkway around the whole boat, perfect for fighting big fish. Underneath the hull, the boat has two 12.5L John Deere engines, allowing this boat to easily reach over 22 knots! For our excursion, we cruised along pretty slow, a) for the fishing and b) the 1200 gallons of fuel the ship holds get costly real quick.
Instead of going during a normal fishing trip, we were privileged to tag along on a "crew trip" on the boat. Two of the crew were adament spear-fishers. Imagine… jumping into the Pacific 25 miles from shore with hundreds of feet of water underneath you, diving to 60 feet, and shooting a 50 pound tuna out of a school of fish.
An excellent trip, would love to do it again in a heartbeat.
–James Drake Films, Denver Video Production