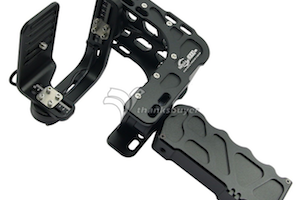 Early tests with the Nebula 4000 Lite, balanced well with the GH4, 14-42 lens, shot at 14mm with OIS on.
In these tests, I learned a few things. Having used the DJI Ronin and Freefly Movi M10 prior to this Nebula unit, I was accustomed to having very little X-axis movement due to the user. However, with the basic physics of how this Nebula works, I have to be much more conscious to control both the up and down (y axis, or walking movement) as well as the X axis (side to side) movement. This is because the Nebula has a pistol grip setup which is AWESOME for size and weight, but not so great for stability. I'm hearing of people using Fig Rigs and other stabilizer to help with this, I'm sure that is something I will need to try as well.
The Nebula itself is fantastic, and works brilliantly with the very lightweight GH4 and 14-42mm combo.
We are traveling overseas and this will be a fantastic asset to have with us with very little footprint in our gear!