Man with a t2i – Short shot on FS100
I love snow days. They disrupt the expected and shake up creativity. On Feb 3, 2012, Denver and the surrounding areas was rocked by 12-18 inches of snow. Cabin fever rose everywhere… so did creativity. Like any artist, I had to release this inspiration, and it came in the form of a video. Having recently picked up a Sony FS100, I decided it was the perfect camera (due to the S35 sized sensor and 1080/60 frame rate) for the job.
Ergonomics on the FS100 are something to be simultaneously admired and hated. It doesn't have the comfort of a prosumer camcorder or a DSLR… it's somewhere in the middle. But, on a good note, the camera does strip down to a reasonably small size, allowing for some high tech weatherproofing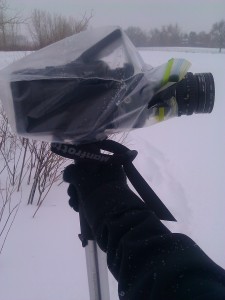 The ziplock bag worked a treat. Camera was absolutely dry despite the heavy snow. NICE.
The AVCHD codec held up surprisingly well in the conditions. Small snow particles moving quickly in front of a nest of twigs and dead branches might be disaster for some cameras, but the files look fine, even at 1080/60. Sadly, this online version doesn't do the original files justice. Enjoy,